We at Bossy Boots have undergone a recent transformation with a new more modern look and new menu items! We've received great feedback from customers since the transformation.
The modern new look of the cafe is engaging with shop design by "Zei" and shop fitter and builder "Twig & Co." We enjoy the blue colour themes, modern lighting and new decor. The courtyard area has also undergone a transformation with large skylights inviting natural light.
The new menu features all day breakfast with a Warm Breaky Salad, Omelette with Meredith goats cheese, bacon, green peas and salsa verde with toasted baguette, and a Mixed bean and ham hock ragout with fried egg on toast. Also added is the Bruschetta with tomato, avocado, roasted capsicum, goats cheese and fresh herbs (add a poached egg), and the Avocado, feta and pea smash on superseed toast with poached eggs, dukkah, and bois boudran sauce.
For lunch the Salad bowls are popular (full of nourishing ingredients and chunky), as well as some of the best Lasagne in Melbourne (acclaimed by The Weekly Review). The Tuna & sweet corn patties are also a hit, especially with a gourmet salad. Italian treats are also featured on the menu such as the Cannelloni of the day.
Bossy Boots cooks up some of the best soups in Melbourne including this Lamb shank, pearl barley and vegetables delicious soup.
This has to be one of the best breakfast salads in Melbourne (available all day), the Warm Breaky Salad, with brown rice, quinoa, roasted sweet potato, kale, grated zucchini, beetroot, rocket, lemon, olive oil and free range chicken. This dish is surprisingly filling although not heavy. The poached egg on top was a perfect accompaniment. We love the idea of a warm salad, even in summer.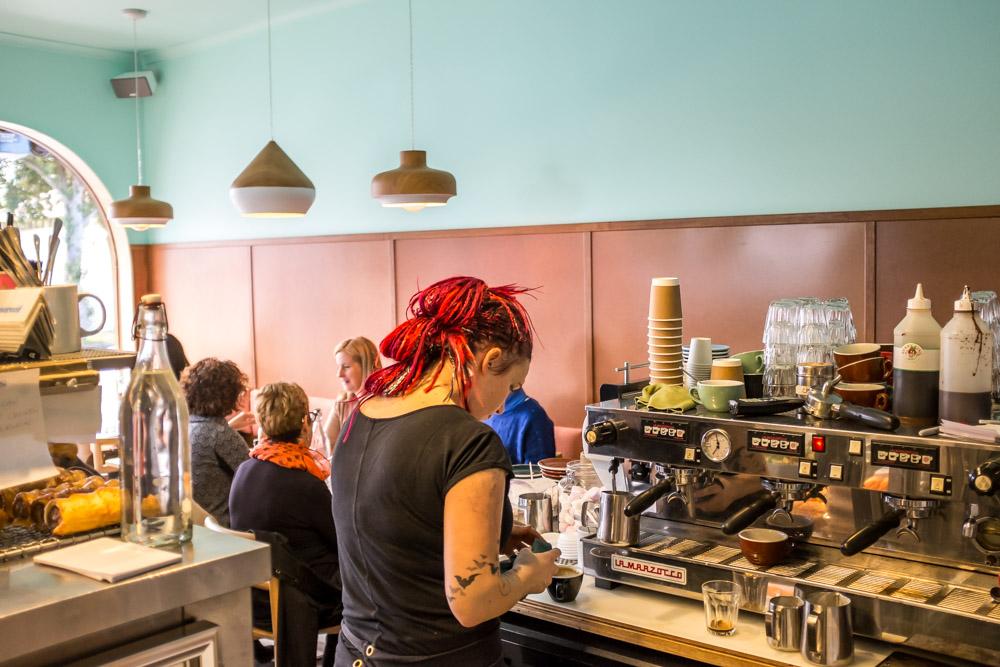 First class coffee by skilled baristas and a great atmosphere.
Some of the best sausage rolls in Melbourne with flaky buttery pastry and quality fillings.
Bossy Boots has several options for healthier eating, including slices such as this Raw RaspChoc Slice (gluten free and vegan).
The Courtyard has also been revamped with attractive plants, skylights and modern colour schemes and lighting.
Pear and Frangipane Tart indulgent and high quality to eat in or take some away.
Says the World Loves Melbourne, "Bossy Boots continues to go from strength to strength as an iconic cafe in Melbourne, and we were highly impressed with the new look and new menu items."